Introduction
Q: Who doesn't want to make their own dried meat?
A: Probably no-one.
Here is an attempt at a Biltong box for drying your meats at home. Turns out it works quite well and looks sweet.
Parts List
Here is a list of parts I used to make the Meat Fridge.
| | | | |
| --- | --- | --- | --- |
| Item | Description | Cost | Source |
| Pine Box | Wooden Pine box with Lid 40x30x24cm | £19.95 | Amazon |
| Dowel | Wooden Dowl 6mm x 30cm | £2.76 | Amazon |
| Lamp Holder | Lamp Holder For B22 Light Bulb | £3.50 | Amazon |
| Bulb | 40W Incandescent B22 Light Bulb | £10.55 | Amazon |
| PC Fan | 120mm 12Vdc PC Fan (LED fan optional) | £3.74 | Amazon |
| PC Fan Filter | 120mm PC Fan Filter | £5.45 | Amazon |
| 12V PSU | 230V ac to 12V dc Led Adapter | £5.47 | Amazon |
| Hanging Hooks | S shaped Hanging Hooks (S) | £2.95 | Amazon |
| Fly Mesh | Mesh to keep out flies but let in air | £4.43 | Amazon |
| Food Safe Wax | Butchers Block Wax | £11.00 | Amazon |
| Pine Stripwood | 2cm x 5mm x 100cm pine strip wood | ? | Offcuts |
| Door Knob | Cattle Skull Charm | £1.97 | Etsy |
| Hinges | Replacement Hinges for the lid | £3.29 | Robert Dyas |
| Feet | Feet for the Box | £1.29 | Robert Dyas |
| Screw and Nut | Used to hold stuff together | £2.29 | Robert Dyas |
| Door Catch | Ball Door Catch | ? | Lying Around |
| Aralydite | Used to glue the Cattle Skull to a Screw | ? | Lying Around |
| | Total | £78.64 | |
Box Construction
Basically, you need a box with room to hang your meat. You then need to get dry air moving over the meat. In this design I have attached a PC fan to the top of the box, the fan is setup as an exhaust so that it moves air out of the box. A set of holes at the bottom of the box allow for air to be drawn in at the bottom. This air then moves over the 40W Incandescent bulb that, in theory, removes moisture and chill from the air. I made sure that the area of the exhaust outlet hole matched that of the inlet holes. The inlet holes were also covered with a fly mesh to stop any unwanted animals from moving in during the drying process. To run the PC fan I used a 12V Led transformer, this was then wired up to the same supply as the light bulb.
Finishing Touches
To complete the look, the box was sanded down as needed to get rid of all the pencil marks and splinters. All the wood was then waxed with wood safe Beeswax and Mineral Oil butchers block wax (Smells awesome.) To complete the Fridge look, a handle was added, this was made from a Cattle Skull charm glued to a bolt (shout out to Steve for helping source the charm). The bolt was then secured from each side of the door.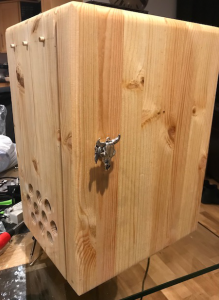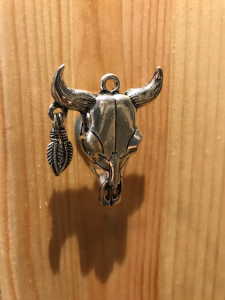 Meat Prep
You need a good unfatty red meat for Biltong, this first batch was made of beef topside.
To keep it short:
Cut your meat into strips that are about 2-3 cm thick and long enough to hang above the bulb.
Marinade your meat in red wine vinegar with some Worcester Sauce, I also added a bit of liquid smoke.
After over 30 minutes, take your meat, dry it off and rub it in your spice mix; Corriander, Black Pepper, Paprika (or whatever you want)
Next let it cure in a mixture of Salt and Sugar and a bit of baking soda for just under 3 hours.
Once cured, rinse it in vinegar to get rid of the salt and sugar.
Pat the meat dry with kitchen towel
Roll your meat in the spice mix again
Rejoice, as you can now hang your meat.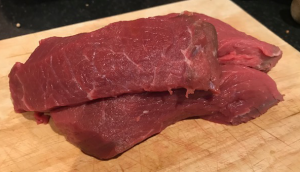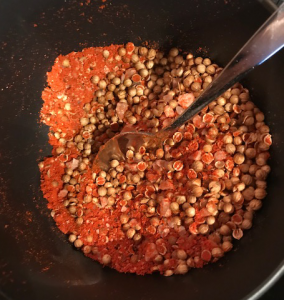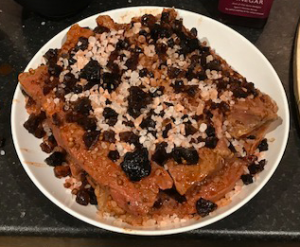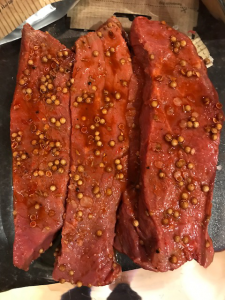 The Hang
Turn your box on, put a tin foil drip tray at the bottom. Then skewer your meat on a hook and hang it up. Make sure that no two meats are touching and close the box. I also ended up chucking in a handful of dried rice on the drip tray to aid with absorbing any moisture or sweat from the meat.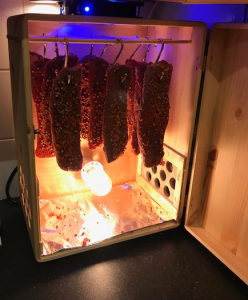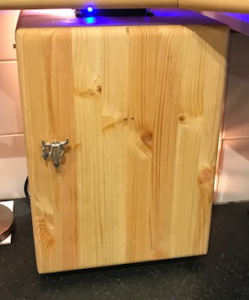 Drying
Check your meat daily! Make sure it is doing well, talk to it, DON'T caress it, its time will come!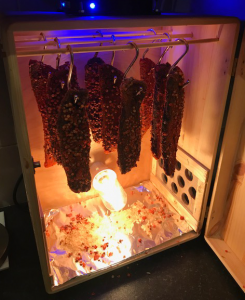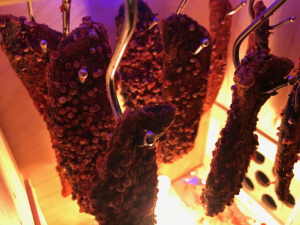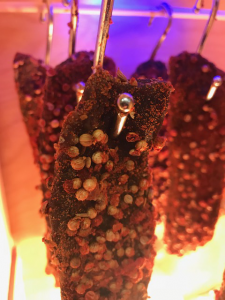 Day 2
Day 2 of drying and you can see below the meat dried nicely on the outside and is getting there on the inside. At this stage it tastes quite sweet and is still moist on the inside.